Another exciting week has come and gone!
An earthquake in New Zealand that troubled creatures of both land and air, more interviews of actors and the equally important behind-the-scenes sound-mixers and editors, and even a new poster!
A complete transcript for The Hobbit: The Desolation of Smaug is now available
, both with and without pictures. You can view it with pictures
here
and without pictures
here
.
Sunday:
Dean O'Gorman was interviewed by the German GEEK Magazine
with a twist: he had to silently act out the answer to each question. He did it very well. You can see a translation of the questions and pictures of the answers at
ThorinOakenshield.net
.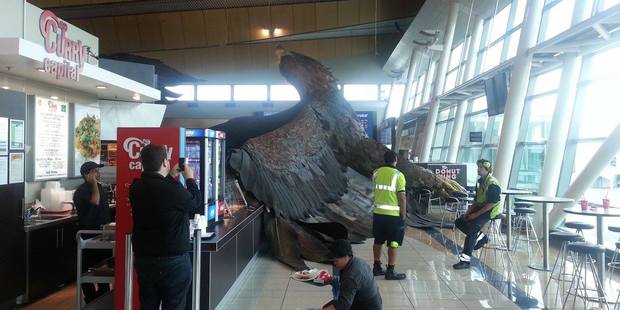 A 6.2 magnitude earthquake hit New Zealand at 3:52pm local time on Monday, January 20
(9:52pm EST Sunday, January 19). The quake was felt in Wellington, even knocking down one of the giant eagles hanging from the ceiling of the Wellington International Airport. Find out more about the earthquake and the damage it caused at
nzherald.co.nz
.
Thursday:
SoundWorks Collection traveled to Wellington, New Zealand, and visited Park Road Post Production to speak with the people responsible for two of the The Hobbit: The Desolation of Smaug's three Oscar nominations
: Best Sound Editing and Best Sound Mixing. SoundWorks Collection put together a video in which re-recording mixers Michael Hedges, Christopher Boyes, Michael Semanick, and Gary Summers, as well as Howard Shore and Philippa Boyens, make an appearance to talk about the sound of
The Hobbit: The Desolation of Smaug
. The video is embedded below.
And finally, here is an awesome Chinese poster for The Hobbit: The Desolation of Smaug featuring Smaug and Bilbo
. I have to say, this is one of the best yet.